Well …​ maybe not at the very beginning. In the early days of computing, it was uncertain how large should be the most elementary "bit" (pun intended) of information a computer could handle.
Some early designs used trits, a tri-state information building blocks. That choice was not made at random, but because ternary numbers have the lowest radix economy and thus allowed a more efficient representation of numbers (remember, at that time memory was very sparse!)
Computers based on trits used either balanced ternary systems (where one trit could hold the value -1, 0, or +1) or unbalanced ternary systems (0, 1, 2). Some designs were also based on a tri-state true/false/undefined arithmetic. While not very successful in computer design, a close concept, the three-state logic, which adds an high-impedance state in addition to the high and low logic levels, is widely used in digital electronic engineering.
Occasionally, research papers are still published to remind us the advantages of ternary designs. However, the overwhelming majority of computers today are based on binary numbers.
In a binary computer, the most basic unit of information is the bit. It stands for "binary digit" and, as its name implies, a bit can only take two different values. By convention, we call them 1 and 0, true and false, high and low, or, in formal logic, ⊤ and ⊥. Those are just conventions though. We could call them the rectangle and triangle states, the blue and green ones, or the hot and the cold.
In fact, at the hardware level, any physical properties can be used to hold a bit, as long as we can distinguish two different states. Thus, as a non-exhaustive list, we can represent a bit:
as a "hole" or "no-hole" in electro-mechanical systems like punch cards when used in binary mode;

as light/no-light in an optical system;

as a positive/negative polarity on a magnetic storage media;

as different voltages (close to 0V for false, close to +5V for true — or the other way around) in an electronic system;
The boolean algebra considers binary values as truth values and deals mainly with logical operators like the conjunction and, the disjunction or, and the negation not.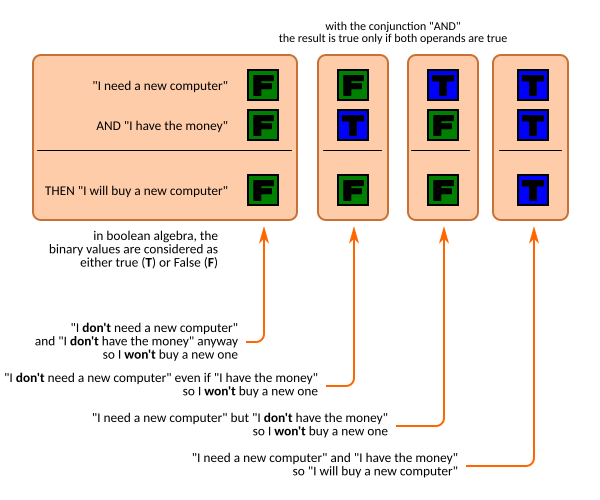 The binary arithmetic considers binary values as the digits 0 and 1 and defines the addition, subtraction, multiplication, and division for binary numbers.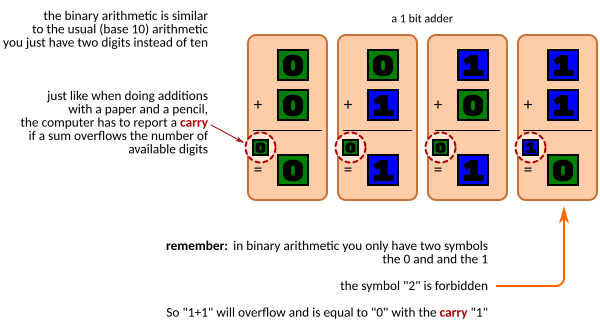 When you have one bit, you have only two different states at your disposition. This is very little to represent real-life data.
However, the bits can be combined to represent larger values:
With one bit, we can represent two values.
Let's call them 0 and 1.

With two bits, we have 2✕2 values.
Say 0, 1, 2 and 3.

With three bits, we have 2✕2✕2 values.
0, 1, 2, 3, 4, 5, 6 and 7.

And with each extra bit, we double the number of possible values.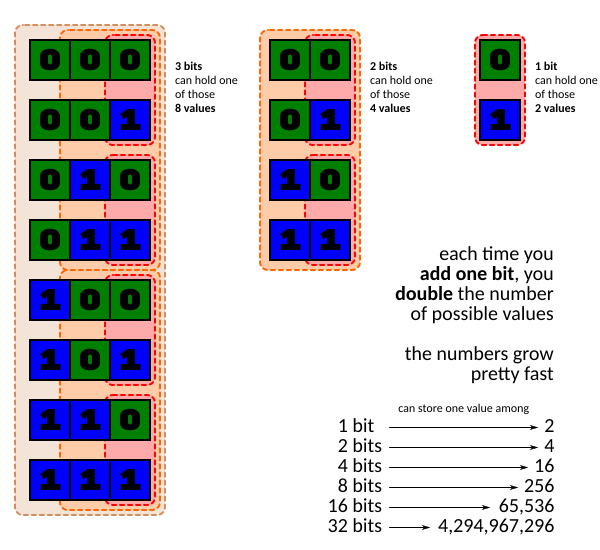 As an exercise to test your comprehension, try to find the minimum number of bits required to store the following information:
Minimum number of bits required to store some real-world data

| Information | Number of bits required |
| --- | --- |
| The state of a light bulb (on/off) | |
| The day of the week (Monday to Sunday) | |
| The age of a person (assuming a max of 120 years) | |
| The number of people on earth | |